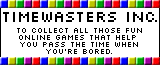 So what is this? It's a list of all the online games I will find. It's more for my benefit than anything else - so I won't have to go and dig through my bookmarks every time - but it could be interesting for other people as well, I think. Enjoy.

To play these games, you will need Java enabled or Shockwave and/or Flash installed (depending on the game).

powered by blogger



Beetle buggin'
Single player


Drive a miniature Beetle on a desk and pick up the sheets of paper. The game advertises for HP, but it's fun anyway. Pity there's only two levels...




Reflections
Single player


Using mirrors and other things of that kind, redirect a laser beam to turn on all the lights. Easy at first, hard at the higher levels. Fun nonetheless.




Wintery games
Single player


Just a little list of winter/Christmas themed games.
Reindeer games - Boxt - Snowball fight - Penguin bounce